Cellulite Treatment Specialist in Chesapeake, VA
Approximately

85 to 90%

of adult women's skin contains cellulite. At Rejuva Medspa, weprovide aesthetic services for all skin types. Cellulite is the collection of fat mostly thigh, stomach, and buttocks are those areas where cellulite most frequently develops. The visibility of cellulite depends on age, skin thickness, and gender. Cellulite helps to minimize dimpling, restore a smooth appearance, and tighten the skin. To learn more about the procedure, Contact us or schedule an appointment online. We are located at 3925 Portsmouth Blvd, Chesapeake, VA 23321.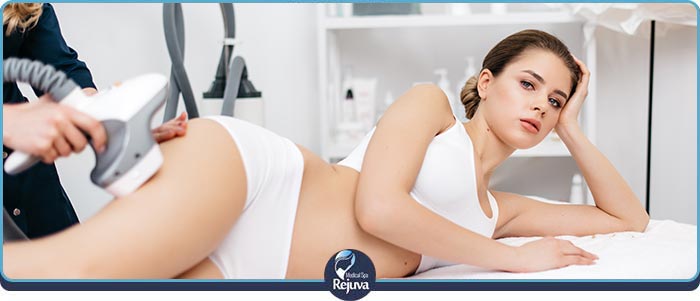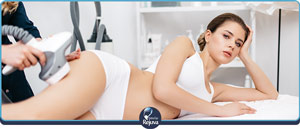 Table of Contents:
What is Cellulite?
How does Cellulite affect my body?
What are the symptoms of cellulite?
How do I get rid of my cellulite?
Cellulite is a cosmetic condition that causes dimpling along the surface of the skin, most commonly in the stomach, butt, and thigh areas. While it is completely harmless and painless, many people don't like the way it makes their skin look and feel. The visual of cellulite is often compared to cottage cheese, orange peel, or oatmeal.
At Rejuva Med Spa, we offer cellulite reduction treatments that will help you feel comfortable and confident in your skin again. Contact us for more information about our cellulite-reducing services or book an appointment with one of our specialists online.
What is Cellulite?

Cellulite is a common skin condition that causes dimpled flesh on certain areas of the body such as the thighs, hips, butt, and abdomen. While the condition can anyone, it is more prevalent in girls, affecting between 80-90% of women as compared to around 10% of men. It is a completely harmless and painless affliction, however, many who have cellulite are not fond of the way it makes their skin look.

Cellulite develops as fat cells continue to accumulate and push up against the skin. This creates an uneven surface which translates to dimpling appearing across the exterior of the skin.

There is still much research to be done into what, exactly, causes cellulite. However, early studies have shown that hormonal factors, genetics, weight, muscle tone, and lifestyle choices may all influence who develops this condition.
How does Cellulite affect my body?

Cellulite is a completely painless condition that doesn't affect your overall physical health. However, many do not like how cellulite makes their body look which can often affect their levels of self-confidence and self-esteem.
What are the symptoms of cellulite?

Cellulite is pain-free condition that only affects how skin looks and feels. It's characterized by dimpled or bumpy skin, which is often described as having the texture of cottage cheese or oatmeal.

Mild cases of cellulite may only be visible if you pinch your skin in that specific area. More severe cases are visually present whether the skin is being touched or is at rest, making the skin constantly appear bumpy. Cellulite is most common around the thighs, hips, butt, stomach, and breasts although it can form anywhere where there is an accumulation of fat cells.
How do I get rid of my cellulite?

There are many treatments available on the market that can reduce the appearance of cellulite. These can improve the appearance of dimpling on your skin via either surgical or non-surgical means. The options to reduce the appearance of cellulite include:

– Deep massage
– Regular exercise and a healthy diet
– Increasing muscle mass 
– Laser treatment
– Injections
– Subcision
– Creams and lotions containing retinol
– Certain spa treatments
– Radiofrequency, ultrasound, or infrared energy pulsed into the skin

At Rejuva Med Spa, our expert team offers cellulite treatment. This treatment uses radiofrequency energy to heat body tissues, destroy fat cells, and increase collagen and elastin production. The result reduces the appearance of cellulite on the skin for a smoother and more flawless finish. In order for the most noticeable results, you should be at or near your ideal body weight before moving forward with cellulite treatment.

Before any treatment, your provider should always examine your medical history and skin to ensure the procedure will be safe and effective. Some treatments are not ideal for patients with certain conditions or skin types so it's always best to consult a specialist before committing to anything.

At Rejuva Medspa, our team of specialists is extremely knowledgeable and experienced in treating skin issues, including cellulite. We are dedicated to helping you achieve your skin goals through the latest techniques and services that have proven results. For more information about our services, or if you would like to book an appointment, contact us at your earliest convenience. We'd be happy to talk you through our options and help you pinpoint the best procedure! We are located at 3925 Portsmouth Blvd, Chesapeake, VA 23321. We serve patients from Chesapeake VA, Norfolk VA, Portsmouth VA, Bowers Hill VA, Berkley VA, and surrounding areas.