Microneedling Specialists in Chesapeake, VA
Do you experience the signs of aging such as wrinkles, sun damage, fine lines, and acne scars? Come to Rejuva Medical Spa, our aesthetic professionals help to rejuvenate skin and make even tone and texture. It is suitable for all skin types. Microneedling is a non-invasive treatment in which an FDA-approved handheld device is used that penetrates the top layer of skin and stimulates collagen creation. It is beneficial for improving skin vitality, increasing moisture, and making skin complexion brighter. For more information, contact us or book an appointment online. We are conveniently located at 3925 Portsmouth Blvd, Chesapeake, VA 23321.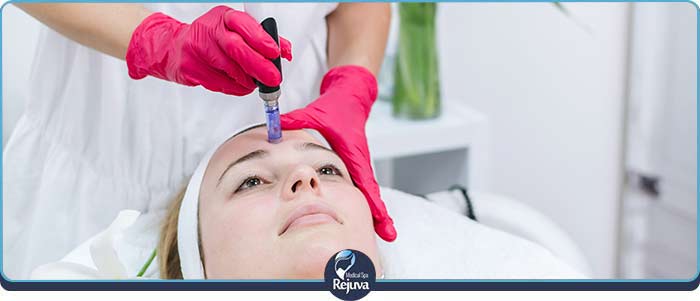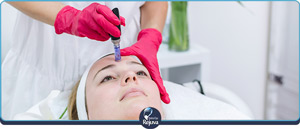 Table of Contents:
What is microneedling?
What are the benefits of microneedling?
Who is a good candidate for microneedling?
Where can I get laser treatment and microneedling in Chesapeake, VA?
One of the most significant causes to changes in the texture and tone of our skin is aging, often the result of a decreased production of collagen and elastin. Boosting the production of these two proteins in our skin allows for those fine lines and wrinkles to smooth out, the volume to return to our cheeks, and for those pesky age spots to fade. Microneedling is one of the most effective and safe treatment options that is used to stimulate the production of collagen and elastin in just a few sessions, providing natural anti-aging and an overall improvement in the tone and texture of the skin without the need for fillers or surgical procedures.
What is microneedling?

Microneedling is a cosmetic skin rejuvenation process that uses tiny needles to penetrate the upper layers of the skin to cause microwounds. It is a minimally invasive procedure and is very safe and effective, but uses the natural healing process of the body to stimulate the production of collagen and elastin. As we age, our collagen and elastin production gradually decrease, leading to thinner, sagging skin that is prone to developing wrinkles and other types of creasing. Many minimally invasive cosmetic procedures work by causing microwounds to increase this production as it is very effective at providing volume, structure, and a youthful complexion to patients. Microneedling can also be used in combination with other topical serums as they will then be able to penetrate into the layers of the skin more effectively. It is most common to receive microneedling on the face, but patients can choose to have it performed almost anywhere on their body to enhance the appearance of their skin.
What are the benefits of microneedling?

Collagen and elastin are essential proteins in our skin to keep it looking smooth, full, and just healthy in general, which include some of the primary benefits of microneedling treatments. Microneedling is very effective at improving both the texture and the tone of the skin, allowing both to gradually be evened out. This includes reducing the appearance of fine lines and wrinkles, stretch marks, loose skin, mild scars, enlarged pores, or skin discoloration such as age spots. The treatment also provides medical benefits for those who are suffering from alopecia areata (an autoimmune disease that causes hairloss) or hyperhidrosis (excessive sweating).
Who is a good candidate for microneedling?

Unlike many similar procedures that use laser or light therapy for treatment, microneedling is safe and effective for use on patients with darker skin tones as it carries no risk of causing hyperpigmentation of the skin surrounding the treated area. Microneedling is a very safe treatment option for most people, but since it requires a minimally invasive procedure, it is still highly recommended that you check with your healthcare provider before receiving this treatment. Those who will likely be recommended to follow a different treatment route include:

– Those with blood disorders that require them to take medications that prevent blood clots
– Who have active skin condition such as eczema, psoriasis, skin rashes, or are taking medication for acne
– Those who have a weakened immune system
– Those who are receiving chemotherapy or radiation therapy for cancer treatment
– And those who have a tendency to develop keloids (hard, raised scars)

Good candidates for microneedling will also need to be of generally good health with a reasonable understanding of expectations and required care for before and after the treatment is completed. While it is a very safe and effective skin rejuvenation option, it comes with some required care and potential rare risks that patients will need to be aware of before starting treatments in order to ensure their safety as well as to provide the best possible results from each treatment.
Where can I get laser treatment and microneedling in Chesapeake, VA?

If you are located in or close to Chesapeake, Virginia, our highly qualified team of professionals at Rejuva Medical Spa is happy to provide a wide range of effective cosmetic procedures to have to looking and feeling your best. With the safety and comfort of our patients being our highest priority, patients can relax in our professional and clean establishment while receiving high quality treatments that will be tailored to suit their specific needs. Schedule a consultation with our team today to learn more about our laser treatments and microneedling procedures.  For more information, contact us. We are conveniently located at 3925 Portsmouth Blvd, Chesapeake, VA 23321. We serve clients from Chesapeake VA, Bowers Hill VA, Berkley VA,  Norfolk VA, Portsmouth VA,  and surrounding areas.